---
Digitalisation of Danish democracy
Denmark is world-renowned for having a transparent and open political environment, where the individual citizen has a say in who can run for parliamentary elections. In 2018, a new law on voter declarations came into force, and the then Ministry of Social Affairs and Interior wanted a more transparent model for collecting voter declarations. We helped with concept development and designed and built the final solution. We did this based on our extensive experience in developing public digital solutions that are both secure and easy to use.
A sense of seriousness without being unnecessarily cumbersome
Vælgererklæring.dk needed to be a portal giving every citizen the feeling of participating in democracy. Security, encryption and GDPR compliance is of great importance, and at the same time, the user interface has to be simple and easy to use. The challenge was, among other things, to create a design that appeared simple and trustworthy to the citizen, even though the workflows 'underneath' were complex and reflected the legislation.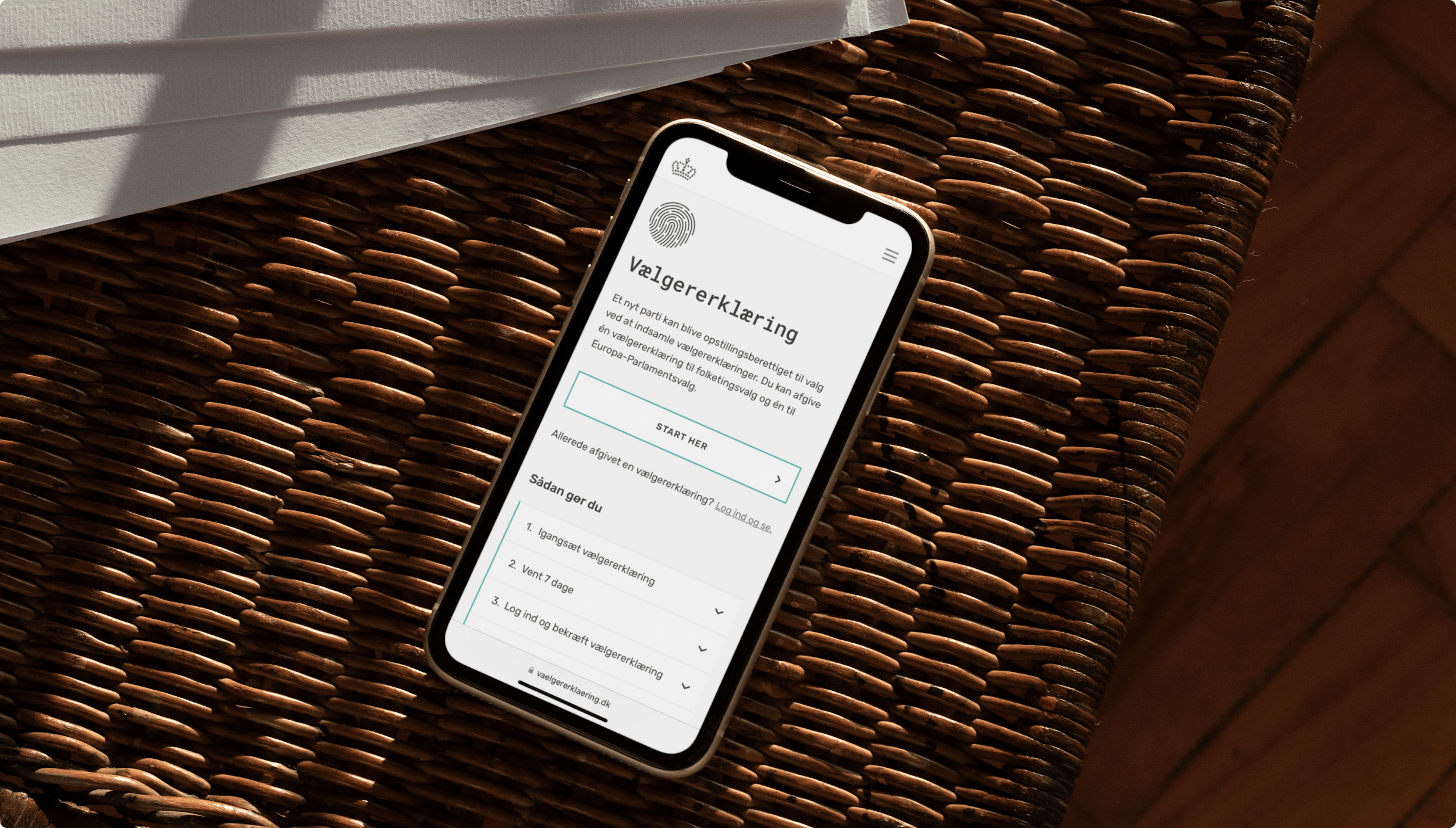 With its simple and inviting design, the solution invites all citizens with the right to vote to submit a voter declaration - and citizens without NemID can use paper. With thoughtfulness as a guiding design principle, we made it as easy to withdraw your voter declaration as it is to submit it, and the solution is informative without pushing the citizen to take the next step. To achieve this, we had to have a deep knowledge of the electoral law, as well as a close and ongoing collaboration with the Ministry of the Interior.
An inviting, accessible and secure solution for citizen's electorial actions
We ensured accessibility for all citizens by, as always, working with accessibility standards. We minimised fraud and ensured good handling of sensitive data (GDPR) by using encryption both in transit (network) and in storage (database). At the same time, we created a visual language and identity for the website that completed the experience.