OffDig23: Key takeaways
A couple of weeks have passed since the annual OffDig conference, which was once again organised with flying colours by the people at Dansk IT. Here we took part in many educational and meaningful moments with public digitalisation on the agenda, which has given rise to exciting reflections.
---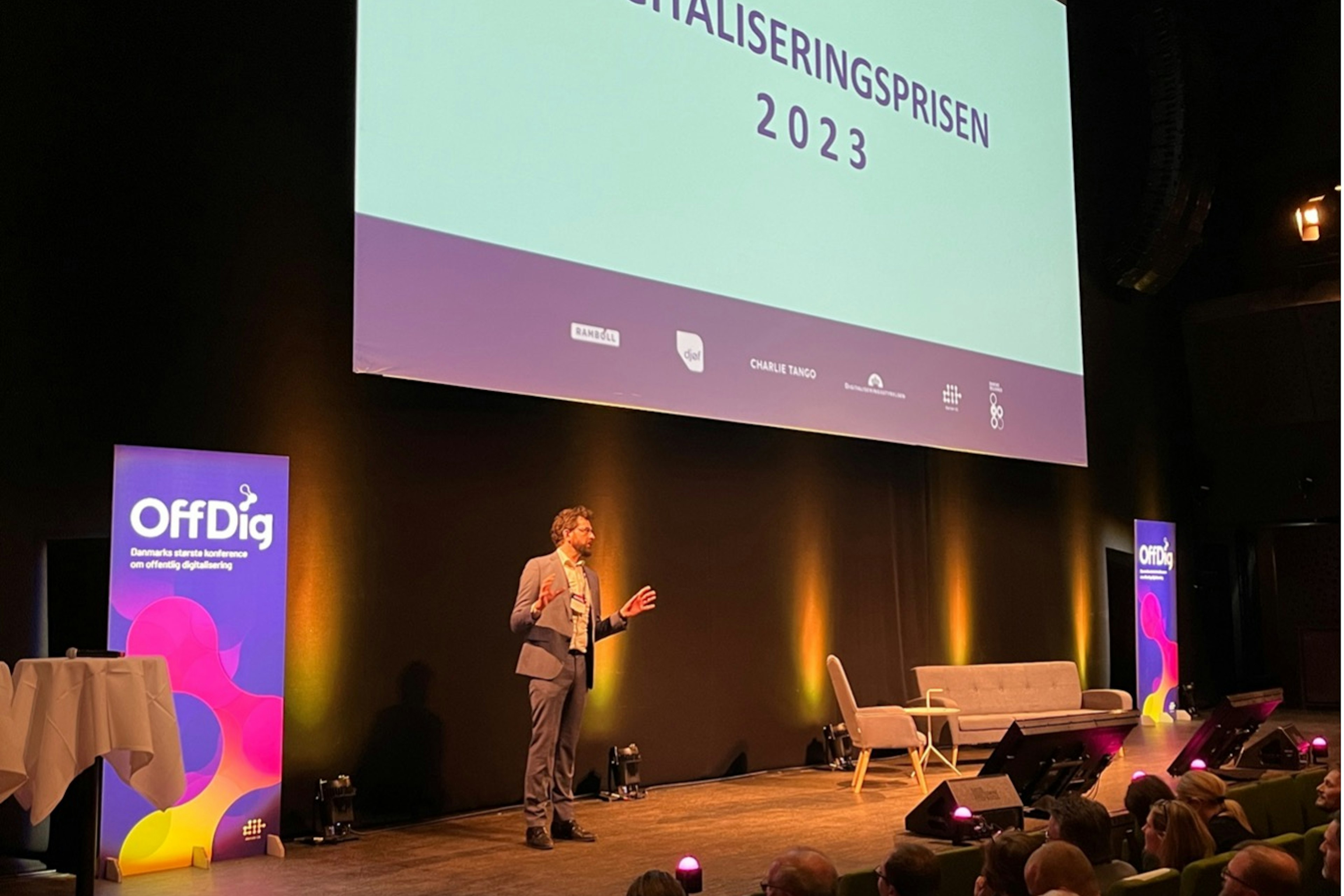 As always, OffDig was an opportunity to explore and discuss the latest trends in digitalisation and innovation in the public sector, where so many passionate people are struggling to make a difference. As a supplier to a wide range of public sector customers, where we design and implement user-centred, data-driven products and services, it gives us a lot of value to be involved. We're keen to hear what our customers and stakeholders have to say and what problems they're struggling with.
Denmark is a pioneer when it comes to public digitalisation, which is why you often get the feeling of treading new and unknown ground in a strong community. This is especially true when you enter into dialogue with the exciting and courageous people who, with their hearts in the right place, are working to make everyday life easier for decision-makers, civil servants and citizens at all stages of life.
The Digitalisation Award, of which we are proud partners, made its way onto the programme again this year to raise awareness of successful and value-creating digitalisation initiatives in the public sector. Together with the fantastic people from Rambøll, Djøf, Danske Regioner and Dansk IT, we helped select the winners in the three categories:
1) Innovation Award: Næstved Municipality with the project 'Digital Supervision'
2) The Coherence Award: Danish Agency for Data Supply and Infrastructure with the project 'Common public basic data from the data distributor'
3) Audience Award: Region of Southern Denmark and Centre for Digital Psychiatry with the project 'Internet Psychiatry'
In general, this year's programme was characterised by an impressively high level of professional integrity and versatility, from presenters to panelists. Add to this the strong commitment from the many participants, who time and time again challenged the presenters with curious, sharp and insightful questions. And now that the dust has settled, there are particular themes in the conference programme that stand out.

Firstly, the inclusion agenda, which is becoming increasingly important as public services are offered fully or partially digitally. How do we deal with citizens who can't or won't use the public solutions as intended? Should we force people (One Size Fits All) or accept diversity and free choice (No Size Fits All)? The complexity of how it is handled is significant and there are no easy solutions, which was also clearly illustrated during the various presentations and debates. However, everyone agrees that this is an agenda that requires courage and innovation from both decision-makers and suppliers. It is only together that we can ensure equal access to welfare in a digital age.
One of the broad - but no less important - themes was the use of technology and data to solve what are known as 'wicked problems'. We followed with great interest the presentations and debates focussing on challenges and solutions within healthcare and the climate agenda in particular. It is clear that we as a society need new and innovative solutions to tackle these challenges. At Charlie Tango, we are particularly aware that our user-centred and data-driven approach can help create new solutions that are both effective and sustainable.
The conference's almost insistent focus on cybersecurity and the NIS2 directive was another key theme for us. Everyone is looking for answers and clarifications. At the same time, it's clear that the complexity of the insecure world we face does not diminish the amount of questions. In the ongoing work on this agenda, both suppliers and customers are making their case and having the opportunity to make a difference. Fortunately, even if it's complex, costly and difficult, the importance is clear.
As a proud supplier to customers who have an ambition to excel digitally, it's crucial for us to take responsibility. We do this to protect our customers' data while ensuring that our workflows, solutions and services are secure and reliable. It was uplifting and refreshing to see this increasing focus from more people in the industry.